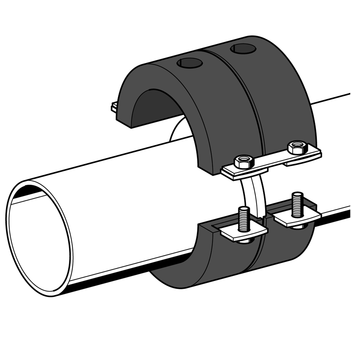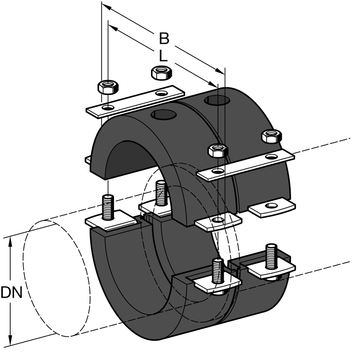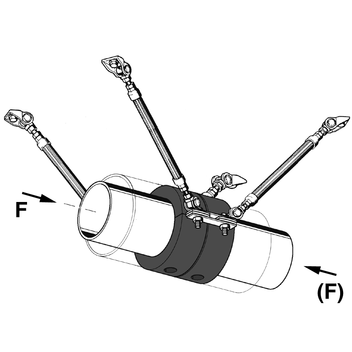 Group:
1382
---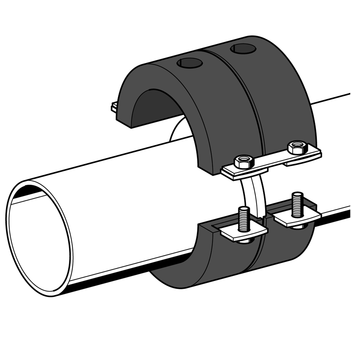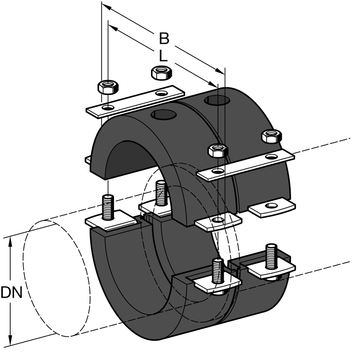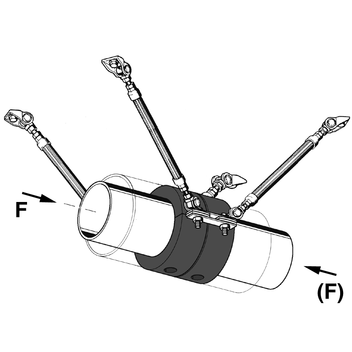 Application
Chilled Water clamp for the absorption of axial forces.
Especially used for risers or as fixed point clamp. The contraction forces are transferred to the pipe clamp by a steel pressure ring welded to the perimeter of the steel pipe. The clamp is anchored to the building structure via an installed anchor bracket.
Scope of delivery
4 half shells, 4 splice plates, 1 pressure ring as well as bolts and nuts.
Delivery time: 10 working days
Installation
1.

Weld pressure ring to pipe at location of required anchor point and conserve subsequently.
Welding process, filler metal and dimensioning of the weld size are to be specified by the customer. For stainless steel pipes select a suitable welding filler (recommendation: 1.4370) to avoid contact corrosion.

2.

Apply a thin bead of sealant to the inside adjacent shell faces of the clamp.

3.

Position clamp shells on either side of the pressure ring and connect via splice plate.

4.

Check if joint between the clamps is closed tightely by the sealant.

5.

Install refrigeration clamp by means of Mounting Kit.
Technical Data
| | |
| --- | --- |
| Insulation: | Closed-cell PUR-foam RG 250 kg/m3 |
| Diffusion resistance: | µ ≥ 1000 |
| Thermal conductivity: | λ = 0.042 W/mK (0°C) |
| Fire resistance: | B2 |
| Temperature resistance: | -50°C up to + 105°C |