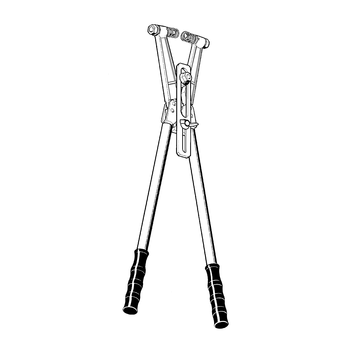 Application
For simultaneously punching two holes of ø 10.5 mm into trapezoidal corrugated roofing of a maximum thickness of 1.2 mm, providing for the subsequent mounting of a Sikla Roof Hanger.

The optimised transformation allows already with very less strength a high cutting force at the hole punches. Thus several successively piercings or piercings in thicker sheets are possible without problems.
Further advantages are:
Continous adjustment of the cutting width for application of various profiles from 40 - 100 mm
Continous adjustment of the height position for an exact and uniform alignment of the hole positions taken from the lower edge of the trapezoidal corrugated sheet.
After piercing, ejector springs ensure a safe return stroke of the hole punches.
Scope of delivery
Completely with hole punches.
Hole Punches could be re-ordered or exchanged if required.
Technical Data
Total length:

710 mm

Material:

Holders:

Steel tube, lacquered with plastic grip

Joint parts:

Steel

Hole Punch:

Steel, tempered, ø 10,5 mm

Ejector springs:

Stainless steel