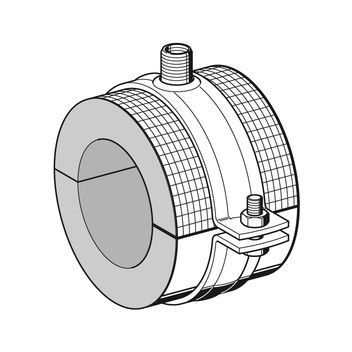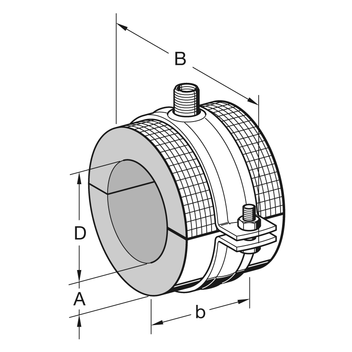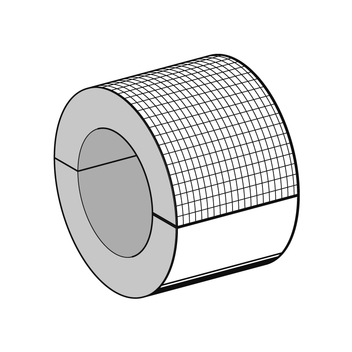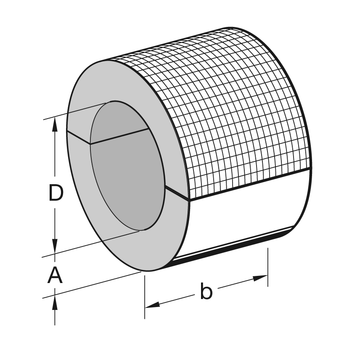 Group:
R100
---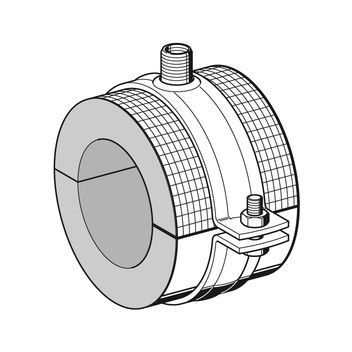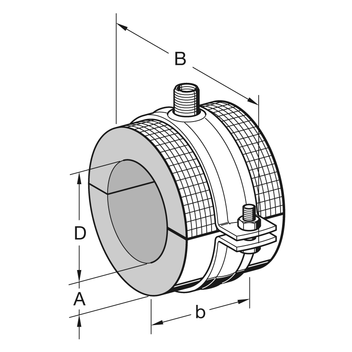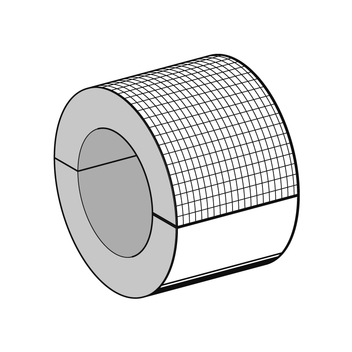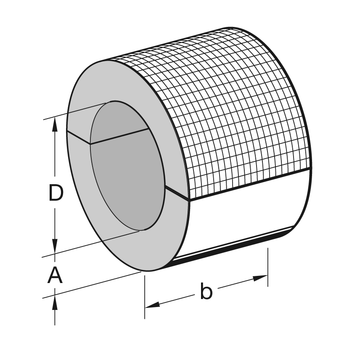 Application
Insulated Pipe Support Inserts are designed to be used in pipe hanger brackets and will support the compressive loads imposed by horizontal pipework carrying water or liquids. Their use enables the specified thickness of insulation to be maintained at pipe supports. They also facilitate the installation of a continuous and fully sealed vapour barrier, which is particulary important on cold or chilled pipework. Insulated Pipe Support Inserts may be used to support mild steel, stainless steel, copper and plastic pipework operating in the temerature range of -180°C to +120°C.
Scope of delivery
Pipe Insulation and Insulated Pipe Support Inserts have a factory-applied, high-performance, reinforced aluminium foil vapour barrier jacket, a resilient, protective, low-permeability facing. The facing is factory-applied so as to avoid site application, which carries the risk of vapour barrier damage, and with it, a risk to the integrity of the system.
Installation
The insulating inserts is recommended to be used in combination with a Sikla Pipe Clamp type "Duo", "Stabil D-3G", or "Stabil D".
Technical Data
Insulation component: manufactured from high-density rigid phenolic insulation, which has an open cell structure. High-density rigid insulation is entirely CFC/HCFC-free and exhibits zero Ozone Depletion Potential (ODP). The density used depends upon applied load.

Insulated Pipe Support Inserts are available in the following densities:
60 kg/m3
80 kg/m3
120 kg/m3
160 kg/m3
For 15 mm Insulation Thickness;

NB
Steel NB
[mm]

Steel OD
[mm]

Copper OD
[mm]

Total Clamp
Diameter

Recommended
Pipe Clamp

Phenolic
Block

15
48
173261
210189


1

/

2

"
15
21,70
22
55
173261
210193


3

/

4

"
20
27,20
28
61
173279
210201

1"
25
34,20
35
68
173288
210209

1

1

/

4

"
32
42,90
42
75
173297
210221

1

1

/

2

"
40
48,80
81
173297
210239

54
87
173306
210243

2"
50
60,80
93
186023
210257

67
100
186032
218397

2

1

/

2

"
65
76,60
76
109
173324
210269

3"
80
89,50
122
186041
210285

108
141
191396
210307

4"
100
114,90
147
191405
210163

133
166
191414
210091

5"
125
140,60
173
107167
210095

159
192
107185
210109

6"
150
168,60
201
107194
210117

8"
200
219,10
252
107219
210135

10"
250
273,20
306
107246
210345

12"
300
323,90
357
103729
210453

For 20 mm Insulation Thickness;

NB
Steel NB
[mm]

Steel OD
[mm]

Copper OD
[mm]

Total Clamp
Diameter

Recommended
Pipe Clamp

Phenolic
Block

15
58
173279
210195


1

/

2

"
15
21,70
22
65
173279
210199


3

/

4

"
20
27,20
28
71
173288
210207

1"
25
34,20
35
78
173297
210219

1

1

/

4

"
32
42,90
42
85
173306
210227

1

1

/

2

"
40
48,80
91
186023
210241

54
97
186023
210255

2"
50
60,80
103
173315
210265

67
110
173324
218399

2

1

/

2

"
65
76,60
76
119
186041
210283

3"
80
89,50
132
191387
210303

108
151
191405
210343

4"
100
114,90
157
191414
210089

133
176
107176
210099

5"
125
140,60
183
107176
210101

159
202
107194
210115

6"
150
168,60
211
148939
210183

8"
200
219,10
262
POA
210069

10"
250
273,20
316
103701
210437

12"
300
323,90
367
103747
210455

For 25 mm Insulation Thickness;

NB
Steel NB
[mm]

Steel OD
[mm]

Copper OD
[mm]

Total Clamp
Diameter

Recommended
Pipe Clamp

Phenolic
Block

15
68
173288
210203


1

/

2

"
15
21,70
22
75
173297
210215


3

/

4

"
20
27,20
28
81
173297
210217

1"
25
34,20
35
88
173306
210225

1

1

/

4

"
32
42,90
42
95
186023
210251

1

1

/

2

"
40
48,80
101
173315
210253

54
107
173315
210263

2"
50
60,80
113
173324
210267

67
120
186041
218401

2

1

/

2

"
65
76,60
76
129
191387
210299

3"
80
89,50
142
191396
210325

108
161
191414
210345

4"
100
114,90
167
191414
210093

133
186
107185
210103

5"
125
140,60
193
107185
210107

159
212
148939
210181

6"
150
168,60
221
107200
210123

8"
200
219,10
272
107228
210143

10"
250
273,20
326
103701
210439

12"
300
323,90
377
POA
210457

For 30 mm Insulation Thickness;

NB
Steel NB
[mm]

Steel OD
[mm]

Copper OD
[mm]

Total Clamp
Diameter

Recommended
Pipe Clamp

Phenolic
Block

15
78
173297
210211


1

/

2

"
15
21,70
22
85
173306
210223


3

/

4

"
20
27,20
28
91
186023
210165

1"
25
34,20
35
98
186023
210249

1

1

/

4

"
32
42,90
42
105
173315
210259

1

1

/

2

"
40
48,80
111
173324
210261

54
117
186041
210279

2"
50
60,80
123
186041
210281

67
130
191387
218404

2

1

/

2

"
65
76,60
76
139
191396
210301

3"
80
89,50
152
191405
210339

108
171
107167
210369

4"
100
114,90
177
107176
210097

133
196
107185
210105

5"
125
140,60
203
107194
210113

159
222
107200
210121

6"
150
168,60
231
POA
210071

8"
200
219,10
282
107237
210151

10"
250
273,20
336
POA
210441

12"
300
323,90
387
POA
210459

For 40 mm Insulation Thickness;

NB
Steel NB
[mm]

Steel OD
[mm]

Copper OD
[mm]

Total Clamp
Diameter

Recommended
Pipe Clamp

Phenolic
Block

15
98
186023
210245


1

/

2

"
15
21,70
22
105
173315
210231


3

/

4

"
20
27,20
28
111
173324
210233

1"
25
34,20
35
118
186041
210275

1

1

/

4

"
32
42,90
42
125
186041
210277

1

1

/

2

"
40
48,80
131
191387
210293

54
137
191387
210295

2"
50
60,80
143
191396
210323

67
150
191405
218410

2

1

/

2

"
65
76,60
76
159
191414
210337

3"
80
89,50
172
107167
210365

108
191
107185
210389

4"
100
114,90
197
107185
210111

133
216
148939
210177

5"
125
140,60
223
107200
210119

159
242
107219
210131

6"
150
168,60
251
107219
210133

8"
200
219,10
302
107246
210157

10"
250
273,2
356
103729
210443

12"
300
323,90
407
103765
210461

For 50 mm Insulation Thickness;

NB
Steel NB
[mm]

Steel OD
[mm]

Copper OD
[mm]

Total Clamp
Diameter

Recommended
Pipe Clamp

Phenolic
Block

15
118
186041
210247


1

/

2

"
15
21,70
22
125
186041
210273


3

/

4

"
20
27,20
28
131
191387
210167

1"
25
34,20
35
138
191396
210291

1

1

/

4

"
32
42,90
42
145
191405
210321

1

1

/

2

"
40
48,80
151
191405
210333

54
157
191414
210309

2"
50
60,80
163
191414
210329

67
170
107167
218413

2

1

/

2

"
65
76,60
76
179
107176
210363

3"
80
89,50
192
107185
210385

108
211
148939
210421

4"
100
114,90
217
148939
210175

133
236
POA
210185

5"
125
140,60
243
107219
210129

159
262
POA
210075

6"
150
168,60
271
107228
210141

8"
200
219,10
322
103701
210427

10"
250
273,2
376
POA
210445

12"
300
323,90
427
POA
210463