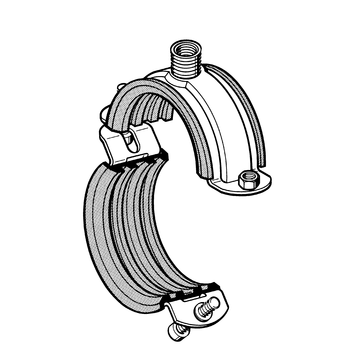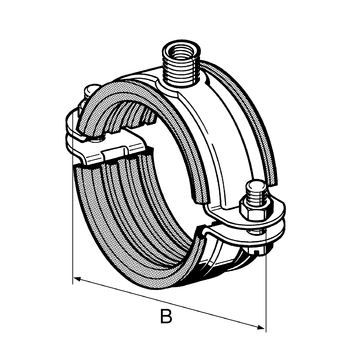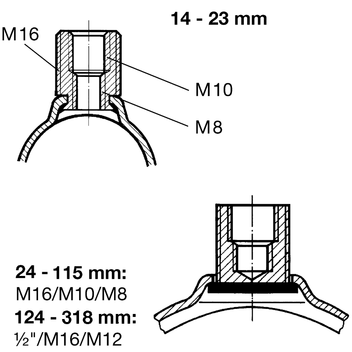 Group:
1843
---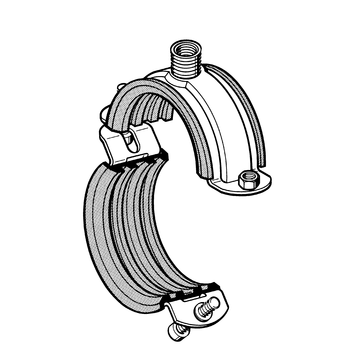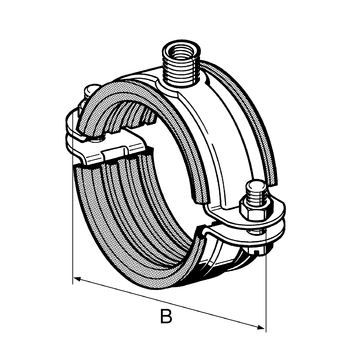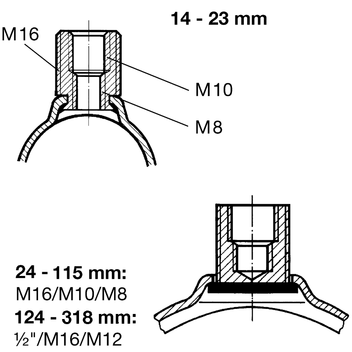 Application
Pipe Clamp for the installation of pipes required for all M&E services in industrial buildings. Pipe clamp with sound absorption lining suitable for sound proof pipe fixation according to DIN 4109.
Scope of delivery
Sizes 14 to 115 mm are equipped with articulation and welded-on nuts for the clamping bolts. On the joint side, the clamping bolt is pre-assembled; the clamping bolt on the opposite side is mounted into the bore hole and retained by a plastic washer, thus preventing any accidental unscrewing.
For sizes 124 mm and larger the clamping bolts and nuts required are supplied in bulk. For further connecting options with Adapters, see product "Adapter AD f/f" (this chapter).
Technical Data
Size
[mm]

Max. perm.
load (tension)

Tightening torque
[Nm]

14 - 23
1.8 kN
2

24 - 115
2,0 kN
3

124 - 162
2.9 kN
5

165 - 318
8.0 kN
10
The max. permissible load is calculated using specific statistical methods relating to break loads and is designed to restrict deflection to 1.5 mm or 2 % of the maximum applicable clamping diameter.

Perm. load FZperm,fi in case of fire
Size range
[mm]

FWD 30
[N]

FWD 60
[N]

FWD 90
[N]

FWD 120
[N]

Deformation
δmax [mm]

Thread
≥

14 - 23
380
200
140
-
49
M10

24 - 65
500
250
170
120
44
M10

67 - 115
1000
650
500
400
96
M10

124 - 162
2200
1200
850
600
96
M12

165 - 305
2400
1400
1000
850
104
M12
| | |
| --- | --- |
| Material: | |
| Pipe Clamp: | Steel, HCP |
| Sound absorption lining: | SBR/EPDM, black glued-in(for rubber profiles see chapter "Sound Absorption Elements") |
Approvals / Conformity
| | | |
| --- | --- | --- |
| | | |
| | | This product has been awared the RAL quality mark "pipe supports" and "fire-tested pipe supports" and is subject to continuous external monitoring according to RAL GZ-655. |

* = no quality mark